5 Benefits of Taking Garcinia cambogia
5 Benefits of Taking Garcinia cambogia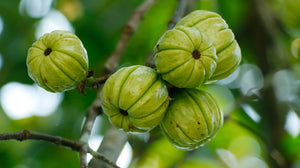 Garcinia cambogia is a popular weight-loss supplement. It is obtained from a fruit of the Garcinia cambogia, also called Garcinia gummi-gutta or Malabar tamarind. Garcinia cambogia consists of high amounts of hydroxycitric acid (HCA).
Photo credit: Indiamart
 Table of contents
What is Garcinia cambogia?
Active constituents and Nutritional Facts of Garcinia cambogia
Benefits Garcinia cambogia
Supplements of Garcinia cambogia
Side effects Garcinia cambogia
Summary
 What Is Garcinia Cambogia?
Garcinia cambogia fruit is a small, pumpkin-shaped, yellow or greenish fruit. The fruit is sour, that it is generally not eaten fresh but rather used in cooking. The supplements of Garcinia cambogia are made from extracts of the fruit's peel and it contains high amounts of hydroxycitric acid (HCA), an active substance that has been shown to have some weight loss properties. The supplements generally contain 20–60% HCA. Nevertheless, studies show that those with 50–60% HCA may provide the most benefit.
 Active Constituents and Nutritional Facts of Garcinia cambogia
The active component of Garcinia cambogia is hydroxycitric acid, a compound that inhibits the enzyme ATP-citrate lyase, which is involved in endogenous lipid biosynthesis. Active ingredient Hydroxycitric acid also increases hepatic glycogen synthesis, suppresses appetite and decreases body weight gain. The chemical compositions of the Garcinia cambogia fruit extract include reducing sugar, tartaric acid, euxanthone, camogin, fats and glucinol.
 Benefits Garcinia Cambogia
May Reduce Your Appetite
Research has found that garcinia Cambogia suppresses appetite and makes you feel full. Its mechanism is not known fully, but research suggests that the active ingredient in Garcinia Cambogia can increase serotonin in the brain. Since serotonin is a known appetite suppressant, higher blood levels of serotonin could reduce your appetite. These effects may depend on each individual.
 May Block Fat Production and Reduce Belly Fat
Garcinia cambogia effects blood fats and the production of new fatty acids. Human and animal studies show that it may lower high levels of fat in your blood and reduce oxidative stress in your body. One study also suggests it may be especially effective at reducing the accumulation of belly fat in people who are overweight. The reason for these effects may be that Garcinia Cambogia inhibits an enzyme called citrate lyase, which plays a vital role in the production of fat. By stopping the citrate lyase, Garcinia Cambogia is thought to slow or block fat production in your body and may reduce blood fats and lower your risk of weight gain.
 Anti-Diabetes Effects
People who are overweight or obese are more likely to develop type 2 diabetes than others. Garcinia Cambogia Promotes weight loss and improves blood triglyceride levels, it may also help to reduce the risk of developing type 2 diabetes. As it reduces inflammation, improves blood sugar balance, and control, increases the insulin sensitivity. Combined with a reduction in overall body weight and controlling these factors, it can have significant impacts on people who are at risk of becoming diabetic or who are struggling with other metabolic issues. 
Increased Energy
Many individuals found that, when they supplement with garcinia Cambogia, they have higher energy levels. This may not directly influence weight. However, if you feel more energized throughout the day, you'll likely find that you're more active and more inclined to exercise regularly. When this is the case, the supplement can help you to burn more calories. The more calories you burn, the easier it will be for you to lose weight. This is mostly true when you combine Garcinia Cambogia supplementation with a healthy, calorie-reduced diet. 
Athletic performance
Garcinia cambogia supplement enhances athletic ability. Studies found that both animal and human models provided some evidence for this claim. Consuming garcinia supplement or HCA may increase endurance levels during exercise and stop people feeling exhausted too quickly. 
Supplements and Dosage of Garcinia 
Garcinia Cambogia is been used for centuries in Ayurveda. Many high-quality human researchers have tested the weight loss effects of Garcinia Cambogia. Many of them indicate that the supplement can cause a small amount of weight loss. Many health food stores and pharmacies offer several varieties of garcinia Cambogia. You can also purchase garcinia Cambogia supplements online. Choose one from a reputable manufacturer that contains 50–60% HCA. There are different formulation and dosage forms of Garcinia like tablets, capsules, powders, liquids, etc (Natures velvet Garcinia Cambogia Pure Extract Capsules is one of the examples).
https://www.naturesvelvet.in/products/garcinia-cambogia-pure-extract-500-mg-60-veggie-caps?_pos=1&_sid=0a56f13b3&_ss=r 
Recommended dosages can vary between brands. Generally, it is recommended to take 500 mg, three times per day, 30–60 minutes before meals. It is always best to follow the dosage instructions on the label. Most people experience the best results with garcinia Cambogia when they take it about 30-60 minutes before a meal as it will help you to experience the appetite-suppressing effects of the supplement and will help you to control your portions and calorie intake when you're eating. Consuming Garcinia Cambogia before a meal can also help you create a ritual around it. By doing this, you may find that it's easier for you to take the supplement regularly. The more consistent you are with garcinia Cambogia (or any supplement, for that matter), the better the results you see from it are likely to be. 
Side effects Garcinia cambogia
Many researchers conclude that Garcinia Cambogia is safe for healthy people in the recommended dosages, or up to 2,800 mg of HCA per day. Some individuals have also reported some side effects of using garcinia Cambogia. The most common ones are: Digestive symptoms, Headaches, Skin rashes. 
Summary
Garcinia cambogia supplement is obtained from fruit and it is taken to boost weight loss, though studies disagree on its effectiveness. Garcinia cambogia supplements are made from extracts of the Garcinia cambogia fruit's peel. They contain high amounts of HCA, which is linked to weight loss benefits. Some studies show that it may cause slightly more weight loss than not taking any supplements. This effect is unconfirmed but promising. The positive impacts of garcinia Cambogia on blood fats maybe its best benefit. That said, if you want to lose weight, you might have better luck by changing your diet and lifestyle. 
Now don't worry about where to find the product. We surveyed you and here are the details.
https://www.naturesvelvet.in/products/garcinia-cambogia-pure-extract-500-mg-60-veggie-caps?_pos=1&_sid=0a56f13b3&_ss=r 
Reference
www.healthline.com
www.patchmd.com
www.medicalnewstoday.com
www.sciencedirect.comwww.globalfoodbook.com 
Disclaimer
The contents of the Site, such as the text, images, graphics, etc. are for informational purposes only. The information provided is not intended to be a substitute for professional medical advice or treatment or diagnosis. We recommend that you consult a qualified medical practitioner with any questions you may have regarding a medical condition or for implementing any of the information from the site.